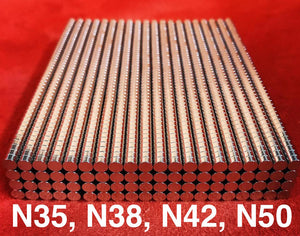 Magnetic puzzles have quickly swept the cubing community by storm and revolutionizing the activity in the process.  
Magnets help to keep your cube lined up between turns to reduce lock ups and penalties at the end of the solve.  Now you can buy a kit to help you magnetize your favourite cube. 
All you need is some crazy glue. Any will work, but we recommend Gorilla Glue. Their super glue or epoxy glues are ideal for gluing these magnets to your plastic puzzle.
We sell them in kits or by blocks for your convenience. 
What do the different values mean?
Neodymium magnets are graded by the maximum strength to which they can be magnetized. The higher the number means the stronger that is the magnet.
If you like your magnets quite strong, go for the N42. 
If you want it to be super strong, for thick plastic, N50 may be right for you. 
If you have thin plastic or want only a mild pull, the N35 may be right for you.
The N38 is the middle ground.